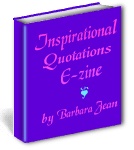 Enjoy an Uplifting,
Joyful,
Inspiring Message!

Sign up for our
Free Quarterly "Inspirational Quotations
E-zine" Today!

These quotes will deepen your
happiness, peace, love, and sense of well-being.

"Inspirational Book of the Month - September 2021"

"The Sky's The Limit"
by Wayne Dyer

"Childish-Mature Dichotomies"

"To my mind, the first step toward real maturity, the only kind of
maturity worth pursuing, is to recognize that no one person is ever
all child or all adult and it would be a sad thing if anybody were.

The person who acts whimsically, silly and "immaturely" some
times, is quite capable of reacting very seriously and "responsibly"
under the appropriate circumstances.

The adult who is controlled, organized, proper and thorough on
the job should also be capable of just letting go, acting zany, and
being like a little child under "the proper" circumstances.
That anyone would encourage others to act in certain rigid ways
arbitrarily labeled "mature" all the time, or that he would demand the
same closed life style of himself, is evidence of shallow, dichotomous
thinking that ignores the holistic phenomenon of each of us as
originally and always part child and part adult, partly mature and partly
immature, for our whole lives.
Sticking yourself in one behavioral mode you call "mature' is very
limiting; it will keep you from trying out new and exciting things.

And most important, it will stop you from wondering further what
real human growth is, from seeing it's open-ended nature, from constantly
revising and expanding your philosophy about what kind of person you
want to be, and ultimately from growing at all."
- Wayne Dyer


        Thank you so much for your contribution to keeping
"Inspirational Quotations" online.  I really appreciate your
 generous gift.  Thank you from the bottom of my heart!!

                                                               Barbara Jean
And of course you will always be free to unsubscribe at any time.
However, I think you'll find the quotes and affirmations in our newsletter
very worthwhile and uplifting.

Sign up for our " Quarterly Quote Ezine" Today!

In Radiant Love,

Barbara Jean
Inspirational Quotations


https://www.inspirational-quotations.com