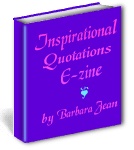 Enjoy an Uplifting,
Joyful,
Inspiring Message!

Sign up for our
Free Quarterly "Inspirational Quotations
E-zine" Today!

These quotes will deepen your
happiness, peace, love, and sense of well-being.

"Inspirational Book of the Month - August 2022"

"Simply Organized"
by Connie Cox and Cris Evatt
"Simplify"

"Let go! let go! let go! Less is best, so do less, have less,
and be less when possible. You will have to be the judge of
what to give up and what to keep.

Just know that activities, material things and relationships
are time and energy consumers. They eat up your life, bite by bite.

Make room for doing what you love, having things you
treasure and being with the people who mean the most to you.

The superfluous can get you down, while the essentials will
lift you up.
Go for quality, not quantity.

Less is best. The less you have, the less you will have to
take care of. Material goods gobble up your time and energy,
so we urge you to have only what you use and love in your life.

- Connie Cox and Cris Evatt
        Thank you so much for your contribution to keeping
"Inspirational Quotations" online.  I really appreciate your
 generous gift.  Thank you from the bottom of my heart!!

                                                               Barbara Jean
And of course you will always be free to unsubscribe at any time.
However, I think you'll find the quotes and affirmations in our newsletter
very worthwhile and uplifting.

Sign up for our " Quarterly Quote Ezine" Today!

In Radiant Love,

Barbara Jean
Inspirational Quotations


https://www.inspirational-quotations.com