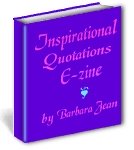 Enjoy an Uplifting,
Joyful,
Inspiring Message!

Sign up for our
Free Quarterly "Inspirational Quotations
E-zine" Today!

These quotes will deepen your
happiness, peace, love, and sense of well-being.

"Inspirational Book of the Month - November 2022

"Don't Sweat the Small Stuff in Love"
by Richard & Kristine Carlson

"Wake up and Think about Three Things
You Love about Her."

"At the risk of sounding corny, this strategy really works.
I've found that it's nearly impossible to get too uptight or to
sweat the small stuff with your partner when you have recently
reminded yourself about why you love her so much.

This holds true whether you're dating and live in different cities,
or married and living together.

I'll give you a personal example that demonstrates how practical
this really is. A few days ago I woke up and thought about the way
Kris brightens the lives of others with her beautiful smile.

For as long as I can remember she's been smiling and being nice
to everyone, even strangers. I don't think I've ever picked her up at
the airport when she didn't have a new friend she had met on the
plane!

This led me to my second loving thought about her. I remembered
how many times I've been upset about something and she eased my
mind by reminding me, "It's just small stuff." More than most people
she has a way of not getting too uptight about little things.
This doesn't mean that if you think about several things you love
about your partner, first thing every morning, that you're never again
going to become irritated or annoyed.

It will, however, substantially reduce the likelihood of this occurring.
And even when you do get bothered, it won't be as severe. This strategy
is quick, simple, effective, and virtually effortless.

What's more, it feels good. You'll be amazed at how easy it will be to
stop sweating the small stuff in love."

- Richard and Kristine Carlson
        Thank you so much for your contribution to keeping
"Inspirational Quotations" online.  I really appreciate your
 generous gift.  Thank you from the bottom of my heart!!

                                                               Barbara Jean
And of course you will always be free to unsubscribe at any time.
However, I think you'll find the quotes and affirmations in our newsletter
very worthwhile and uplifting.

Sign up for our " Quarterly Quote Ezine" Today!

In Radiant Love,

Barbara Jean
Inspirational Quotations


https://www.inspirational-quotations.com