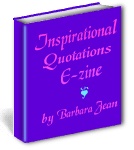 Enjoy an Uplifting,
                 Joyful, 
       Inspiring Message!


                   Sign up for our
Free Quarterly "Inspirational Quotations
                   E-zine" Today!

           These quotes will deepen your
  happiness, peace, love, and sense of well-being.

                                      Join our
        Inspirational Quotations Newsletter Today!
          You'll Receive:
Quotes that will lift you up, inspire you, and warm your heart.


Affirmations that will boost your self-esteem and increase your
inner strength.


Recommendations of inspiring books and tapes that will help
you live the life you're dreaming of.

Sign up today!

You'll receive wonderful quotes and affirmations on the topics
of love, friendship, success, happiness and faith.