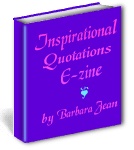 Enjoy an Uplifting,
Joyful,
Inspiring Message!

Sign up for our
Free Quarterly "Inspirational Quotations
E-zine" Today!

These quotes will deepen your
happiness, peace, love, and sense of well-being.

"Inspirational Book of the Month - May 2022

"The Success Principle"
by Jack Canfield

"Create a Victory Log"

" A powerful way to increase your self esteem and
and your accomplishments is to keep a written record
of your successes. It can be as simple as a running
list in a spiral-bound journal.

By recalling and writing down your successes each
day, you log them into your long-term memory, which
enhances your self-esteem and builds your self-confidence.

And later, if you need a boost of self-confidence, you
can reread what you have written.
When most people are about to embark on some
frightening task, they have a tendency to focus on all
the times they tried before and didn't succeed., which
undermines their self-confidence and feeds their fear
that they will fail again.

Keeping and referring to your victory log keeps you
focused on your successes instead.
Start your own victory log as soon as possible. If you
want, you can also embellish it using a scrapbook with
photos, certificates, memos, and other reminders of
your success."

- Jack Canfield
        Thank you so much for your contribution to keeping
"Inspirational Quotations" online.  I really appreciate your
 generous gift.  Thank you from the bottom of my heart!!

                                                               Barbara Jean
And of course you will always be free to unsubscribe at any time.
However, I think you'll find the quotes and affirmations in our newsletter
very worthwhile and uplifting.

Sign up for our " Quarterly Quote Ezine" Today!

In Radiant Love,

Barbara Jean
Inspirational Quotations


https://www.inspirational-quotations.com