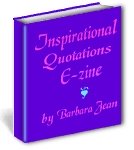 Enjoy an Uplifting,
Joyful,
Inspiring Message!

Sign up for our
Free Quarterly "Inspirational Quotations
E-zine" Today!

These quotes will deepen your
happiness, peace, love, and sense of well-being.

"Inspirational Book of the Month - October 2021"

"The Power of Patience"
by M. J. Ryan

"The Screws are Just as Important
as the Wings."

"We can do no great things; only small things with great love."
- Mother Teresa
"Mother Teresa was visiting a factory in India when she happened
to notice a man in the corner, happily humming and assembling screws.

"What are you doing?" she asked. "Making airplanes," he replied.
"Airplanes? she asked. "Yes," he said, "because without these tiny
screws the plane cannot fly."

I love this story. It reminds me that when work feels like drudgery,
it can help to remember our place in the overall scheme of things. This
man understood the importance of his contribution, no matter how small,
and therefore could patiently tackle his task.

Fast Company once did a survey of the reasons why people stay with
an organization. Money was reason number five. Number one was
feeling valued.

In order to be happy at work, we all need to feel we are contributing
something of importance - to the bottom line, to promoting the goals of
an organization, to a feeling of camaraderie.
For each of us, how we wish to make a difference varies; what is
similar is our longing to experience our value."
- M. J. Ryan
        Thank you so much for your contribution to keeping
"Inspirational Quotations" online.  I really appreciate your
 generous gift.  Thank you from the bottom of my heart!!

                                                               Barbara Jean
And of course you will always be free to unsubscribe at any time.
However, I think you'll find the quotes and affirmations in our newsletter
very worthwhile and uplifting.

Sign up for our " Quarterly Quote Ezine" Today!

In Radiant Love,

Barbara Jean
Inspirational Quotations


https://www.inspirational-quotations.com