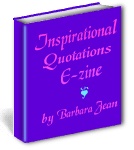 Enjoy an Uplifting,
Joyful,
Inspiring Message!

Sign up for our
Free Quarterly "Inspirational Quotations
E-zine" Today!

These quotes will deepen your
happiness, peace, love, and sense of well-being.

"Inspirational Book of the Month - June 2023

"The Power of Focus"
by Jack Canfield

"What to Do if You Hit a Slump"

"1. Remind yourself of a major accomplishment.

Select a notable victory that made you feel great.
Replay it vividly in your mind. Talk about it. Look at
photos, achievement plaques or thank-you letters.

Keep a Success Log, a scrapbook of your most
positive memories. Understand that you have talent.
You've proved it before, and you can do so again.
2. Get back to basics.

One of the main reasons for a stoppage in results
is that you're not practicing the fundamentals. Do a
mini realty check. Are you doing the easy things instead
of activities that guarantee you results?

Take a break if you're physically or mentally
drained. Recapture your energy before you start up again.

Understand that you can work your way out of it.
Life is full of cycles. They don't last forever, so take it
one day at a time. Remind yourself "This too will pass."
Gradually the sun will start shining again.
John Goddard s one of the world's greatest goal-
setters. He has accomplished more in his own lifetime
than twenty people would have achieved collectively.

When questioned about how he overcomes road-
blocks, he replied, "When I get stuck, I restart myself by
focusing on one goal I can finish in the next seven days -
something simple. I don't think about anything else -
that usually starts my momentum again."
- Jack Canfield
And of course you will always be free to unsubscribe at any time.
However, I think you'll find the quotes and affirmations in our newsletter
very worthwhile and uplifting.

Sign up for our " Quarterly Quote Ezine" Today!

In Radiant Love,

Barbara Jean
Inspirational Quotations


https://www.inspirational-quotations.com