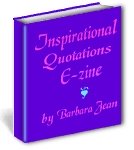 Enjoy an Uplifting,
Joyful,
Inspiring Message!

Sign up for our
Free Quarterly "Inspirational Quotations
E-zine" Today!

These quotes will deepen your
happiness, peace, love, and sense of well-being.

"Inspirational Book of the Month - January 2022

"How to Make a Habit Success"
by Bernard Haldane

"All progress is based on change; all change is by tradition
painful to some degree, and hence to be avoided. Change is
described in such terms as "breaking" with the past, "tearing up
old roots, " and "losing old friends."

Painful descriptions, most of them, leading many to yearn
wistfully for the good old days, which were not necessarily so
good at all.
The instinct to cling to the past, to what is known, to habits
that are as "comfortable as an old shoe," is a powerful one not
too far removed from the infant's desire to cling to mother.

To tear one's self away, to go out into the "cold, cold world,"
requires a determination that not everyone has.
There is, however, another instinct as powerful as the desire
to cling to the past, and that is man's instinct to better himself
through his achievements.

Achievements stimulate progress, progress accompanies
change, and change involves risks which might be painful.
To strive for greater achievements, or to cling to what one has,
that is the question.

The net result of high-speed progress is that the instinct to
cling to the past offers few rewards except to dealers in antiques,
while the instinct to better one's self through achievements has at
last been freed of the shackles of tradition. And never in history
has the world been more eager to reward achievements."
- Bernard Haldane
        Thank you so much for your contribution to keeping
"Inspirational Quotations" online.  I really appreciate your
 generous gift.  Thank you from the bottom of my heart!!

                                                               Barbara Jean
And of course you will always be free to unsubscribe at any time.
However, I think you'll find the quotes and affirmations in our newsletter
very worthwhile and uplifting.

Sign up for our " Quarterly Quote Ezine" Today!

In Radiant Love,

Barbara Jean
Inspirational Quotations


https://www.inspirational-quotations.com