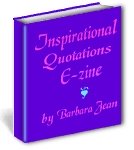 Enjoy an Uplifting,
Joyful,
Inspiring Message!

Sign up for our
Free Quarterly "Inspirational Quotations
E-zine" Today!

These quotes will deepen your
happiness, peace, love, and sense of well-being.

"Inspirational Book of the Month - June 2021

"Treasury of Joy & Enthusiasm"
by Norman Vincent Peale

"How does one become filled with joyous vitality? Everybody
wants this. How does one acquire it?
Nobody needs to be half-alive; everyone can live delightfully,
with joyous vitality.
To live with joyous vitality, practice is important. For if you
practice being dead over a long period of time, you will be dead
even while you live. If you practice being apathetic over a long
period of time, you will become unhappy.

Act as though you were filled with joy and vitality.
"Well," you might say, "that isn't honest, because I am not
filled with joy."

But, yes, you are! It is below the surface of our nature waiting
to be released . . . the kingdom of God is within you" (Luke 17:21).

It is just that it has never come out So act as though you had
life and enthusiasm, as though you had health, as though you had
talent, as though you had joy, and you will come to have them.

Take time each hour of every day to contact God where you
are, get an appointment with Him for one minute hourly, and day
by day you will gain faith and conviction.
Your thoughts, your whole personality will change, for you
will become, as Jesus, able to overcome all things in life.
Because God lives within you, then truth lives within you.
His spirit is in you, His power is within you.

Attend to God every hour of your day, and the law of God
will always work for you to bring you health, peace of mind and
happiness."

- Norman Vincent Peale
        Thank you so much for your contribution to keeping
"Inspirational Quotations" online.  I really appreciate your
 generous gift.  Thank you from the bottom of my heart!!

                                                               Barbara Jean
And of course you will always be free to unsubscribe at any time.
However, I think you'll find the quotes and affirmations in our newsletter
very worthwhile and uplifting.

Sign up for our " Quarterly Quote Ezine" Today!

In Radiant Love,

Barbara Jean
Inspirational Quotations


https://www.inspirational-quotations.com