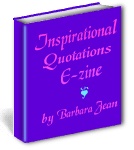 Enjoy an Uplifting,
Joyful,
Inspiring Message!

Sign up for our
Free Quarterly "Inspirational Quotations
E-zine" Today!

These quotes will deepen your
happiness, peace, love, and sense of well-being.

"Inspirational Book of the Month - November 2021

"Creating a Charmed Life"
by Victoria Moran

"Accept Things as They Are"

"There are two ways to be happy: getting what you want,
and wanting what you've got. The second is more reliable
and almost always lasts longer. Wanting what you've got
doesn't mean settling for less than you deserve or desire.

It means being content moment to moment by accepting
things as they are.
People who do not learn the art of acceptance cannot be
happy, even when they do get what they want. Happiness
comes from accepting the present situation, whether it's
something you wish to savor as along as possible or change
as quickly as you can.

Neither is possible without acceptance as the starting point,
because without acceptance, you are living on the periphery
of your life. There at the edges, you can't fully enjoy the good
stuff or do anything about the rest.
One reason acceptance is so hard to come by is that we're
programmed to work toward a better life. This isn't a bad thing,
but it can get in the way when the yearning for more keeps us
from noticing all that's here already.

Acceptance puts you squarely in the center of your real life,
where you have substantial say as to the direction it takes.
When you accept everything, you're suddenly free to change
some things.

Acceptance is the ideal state to be in if you're hoping to run
into contentment. Every so often, even bliss stops by."
- Victoria Moran
        Thank you so much for your contribution to keeping
"Inspirational Quotations" online.  I really appreciate your
 generous gift.  Thank you from the bottom of my heart!!

                                                               Barbara Jean
And of course you will always be free to unsubscribe at any time.
However, I think you'll find the quotes and affirmations in our newsletter
very worthwhile and uplifting.

Sign up for our " Quarterly Quote Ezine" Today!

In Radiant Love,

Barbara Jean
Inspirational Quotations


https://www.inspirational-quotations.com